Today, we are excited to share with you some additional information regarding the 2013 World Championship Series, as well as insight into some of the decisions we've made for the new format.
We redesigned the World Championship Series to help accomplish one of our primary goals—level up the eSports scene by building the type of vibrant, professional StarCraft II eSports ecosystem in North America and Europe that we see in South Korea today. We are very excited about this new format, which we feel will lead to a more consistent storyline through the crowning of a true world champion, higher quality and more exciting matchups globally, and more positive overall experiences for players and viewers alike. We also believe the tournament's design features a relatively open system which affords new and veteran players alike the opportunity to advance quickly if they perform well in a given season.
Just as players have historically traveled from around the globe to participate in GSL, this new WCS system is designed to allow players to participate in one of three similarly prestigious tournaments in America, Europe, or Korea. Rather than creating residency requirements for competitors, we, in cooperation with our partners, aim to encourage players to choose a region as their base by having them participate in offline studio matches within that region. The number of in-studio matches will increase over time, and we believe this will encourage players to both train and reside within the region from which they choose to compete.
As you read through WCS details below, please keep in mind that we consider this system to be a starting point that will evolve over time as we continue to make improvements.
---
League Format and Qualification
Below you will find infographics that explain the overall league format for WCS America, Europe, and Korea during Season 1 of the 2013 World Championship Series. You will find an additional infographic explaining subsequent seasons of WCS for each region, in which the format will flow a little differently.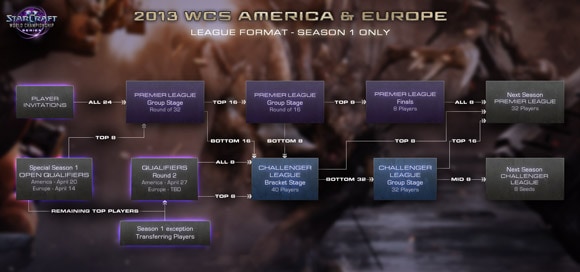 As pictured above, the first season of Premier League competition for both WCS America and WCS Europe will consist of 24 invited players who will be joined by the 8 players who make it through each region's Premier League Qualifiers, for a total of 32 Premier League players in each region. This is unique to WCS Season 1 in that subsequent seasons will not feature a list of invited players, nor any Premier League Qualifiers.
Instead, the top 8 players from the previous season of Premier League will continue on to compete in the next season of Premier League, while the remaining 24 slots will be filled by the top 8 players from the Challenger League bracket stage, and the top 16 players from the Challenger League group stage.
Challenger League in WCS Season 1 features 40 player slots in total, which are initially filled by the top 16 players from the Qualifier League, who will then be joined by 24 players who drop down from Premier League competition during the group stages. For subsequent WCS seasons, Challenger League will still feature a total of 40 slots, but will instead be initially filled by 8 qualifying players from the previous season of Challenger League, 8 players who earn Challenger League slots through Qualifier League competition, as well as 24 players who drop down from Premier League competition during the group stages.
Once WCS 2013 Season 1 has run its course, all three WCS regions will use their respective league formats for this year's remaining seasons, which can be seen below.
If the WCS League Format strikes a familiar chord, it's because it was modeled after the system used by GOMTV for GSL competition. In fact, Premier League qualification for WCS Korea Season 1 was also based on how players performed in the most recent season of GSL, and did not require the same qualifier system that we put into place for Season 1 of WCS America and WCS Europe.
---
Region Switching
It is important to note a few special rules regarding the region lock and region switching for WCS Season 1. Though the intent is to lock players into a region of their choosing for an entire year of WCS competition, we understand the weight of this decision which players had to make heading into the inaugural season of WCS. For this reason, we're allowing players from WCS Korea, who had a slim timing window to make this choice, a one-time opportunity to switch regions between Seasons 1 and 2 this year, and the Challenger League system will be the mechanism players will use to make this switch. 
For example, a Premier League WCS Korea player in Season 1 can elect to compete in WCS Europe for Season 2. However, players who choose to take advantage of this region switch will be required to not only finish out their remaining Season 1 Premier League matches in the originally selected region, but to also compete in this season's Challenger League qualifiers for the new region, which will begin during this season's Premier League matches. 
Again, the only time players will be able to change regions during 2013 will occur between Season 1 and 2. After this decision is made, all players will be locked into their Season 2 region choice for the rest of the year. The next chance players will have to switch regions will not occur until the conclusion of WCS 2013 Season 3, after which they will decide the region to compete in for Season 1 of WCS 2014.
---
Premier League Prize Pool Distribution
The 2013 World Championship Series Premier League Prize Pool consists of $1.6 million spread out over the course of the year. Regional WCS league seasons will each include $100,000 in prize money to be distributed among players, while an additional $150,000 will be allocated for each Cross-Region Season Finals event. Finally, $250,000 will be awarded to competitors in the 2013 WCS Global Finals, held at BlizzCon in November.
The prize pool distribution for each Regional League and Cross-Region Season Finals that will be held this year, as well as the distribution for the BlizzCon WCS Global Finals, is listed below. The prize for Regional Leagues was designed to be relatively flat to reward the accomplishments of all participating players. 
You may notice that prize pools gradually take on more top-heavy forms for Cross-Region Season Finals and the WCS Global Finals, though all participating players will still take home a share of the prize money. This was done in order to greatly reward those players who show the absolute best performance over the course of the season, and year. Additionally, we feel that the player pool is much smaller and the competition more fierce at these events, thus deserving a greater reward.
---
Point System Breakdown
A major component to the new World Championship Series is the point system, which will be used for determining which 16 players will be invited to the WCS Global Finals held following the conclusion of the final WCS Season each year.
Our primary goal for the point system was to design it in such a way that it rewarded players who are the most consistent in their performance at WCS events throughout the year. In order to achieve this, we intentionally balanced the amount of points earned from each event so that top performers wouldn't be favored so heavily that further 2013 competition becomes negligible for other players. We also feel that this design will help to retain lively and intense competition from season to season as players battle to defend and improve their point ranking—even those who rise victorious from Season Final events. All Challenger and Premier League players in a particular WCS season will be rewarded a set number of points based on their performance, with the exception of WCS Korea, in which only the top 40 Challenger League players will be awarded points.
Some events outside of the WCS will also award points that count toward this system. In order to qualify as a point-rewarding non-WCS tournament, any given event will need to go through a formal approval process with the Blizzard eSports team. From there, non-WCS events will be split into one of two point tiers based on a few eligibility criteria that we'll be announcing at a later date.
---
Season 1 Premier League Players
Though we previously listed all of the invited players who confirmed their desire to compete in Season 1 of Premier League for WCS America and Europe, as well as all of the WCS Korea Season 1 Premier League players, we are including the list here so that you can find all WCS Season 1 information in one place. The confirmed players for Season 1 in each regional league represent some of the most skilled StarCraft II players in the world, and we believe that each league will produce strong competition and exciting matches. You will notice that the images for WCS America and Europe each contain eight empty slots. As mentioned above, these seats will be filled by the top eight performing players from each region's Premier League Qualifiers, which are unique to Season 1 of this year.
Though we understand that there may be a few growing pains in 2013, we believe that going forward, with the help of our partners around the world, the system we've designed for the World Championship Series will bring about major improvements to the landscape of StarCraft II eSports.
With WCS Season 1 competition underway for Korea, we've already seen incredible matches and intense competition play out, and we anticipate similarly thrilling events unfolding across WCS America and Europe in the coming days.
We want to thank all of the players, teams, partners, and organizations involved in the WCS for their flexibility and willingness to adapt to this new system. We'd also like to thank our global StarCraft II community. Without each and every one of you none of this would be possible, and we look forward to joining you for every Baneling Bust, Siege Tank volley, and Warp-in round this year.
Finally, we'd like to wish our competitors the best of luck in this season of the World Championship Series. GLHF!